Here at NEOS, we love to encourage people to shine, and that includes both internal staff and our adviser family. So we're really proud to share the efforts of our very own Reon Botha (State Manager WA/SA) and a team of financial services professionals who are gearing up for the bike ride of a lifetime. Even better – the ride is for a fantastic cause! 
It's called the NEOS Pedal for Possibilities Ride and it's a bike tour of over 700kms to raise money for medical research. The ride supports the Garvan Institute of Medical Research, a 'world leader in biomedical research whose goal is to translate discovery into meaningful health benefits for those living with disease where better understanding, new treatments and more effective diagnosis can have the biggest impact', according to their website.  
It kicks off on Monday 14 March. Starting in Albany, Western Australia, which is about 400km south of Perth, riders will finish up in Fremantle after four and a half days of riding. No mean feat! 
The team includes (pictured from the left below) Neil Cleaver (Synchron), Paul Holly (GPS Wealth), Anthonie Bosch (Charter Financial Planning), Shane Reay (MBS Insurance WA) and Michael Scolt (Empire Financial Group). Joining them are Neil Costly (Stable Wealth and Retirement Services), Andrew Walsh (IRESS) and Phillip Win (Profile Financial Services). 
NEOS employees John de Zwart (Managing Director) and Scott Moffitt (General Manager – New Partnerships) were both supposed to be part of the ride, however COVID-19 travel restrictions meant they weren't able to make firm plans to enter Western Australia. So, it's up to our fabulous team and Reon to represent NEOS. We're quite sure they'll do that brilliantly … check out their uniforms!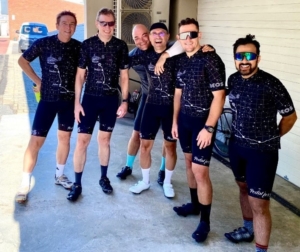 Reon's commitment to training started in October last year, waking up at 4am three times a week to train with his team. According to Reon, it's been, 'early, dark and challenging. But once you've got your gear on, you start thinking of the training, what you want the team to do that day, how you'll want to push them, what the route will be like, etc. Once we're on the ride it's full focus on the task at hand. But that first morning coffee after training… it's heavenly'. 
Reon was inspired to create the ride after a segment on news show A Current Affair. Reon notes that he's motivated to help because, 'the findings and results from the work done by the Institute are shared with many downstream groups fighting diseases like cancer, motor neurone disease, Parkinson's disease, etc'. Few of us are untouched by these diseases, whether it be our families, friends, or our clients. And this cause aligns with NEOS' values because, after all, life insurance is about supporting people through such times.  
The end goal is to raise a total of $100,000, but given the COVID-19 travel restrictions this has been challenging with fewer riders than the team originally planned. Nonetheless, the team are pushing on and have raised over $40,000. If you'd like to contribute, you can make a donation to this great cause today. And keep an eye out – Reon's dream is to see 'an even bigger group from around the country come together every year and build on what we've started to create awareness and support in fighting various diseases'.  
 Congratulations, team. We're all so proud of you!