Winter in Queensland is my favourite time of the year. There's a chill in the air, but the footy is constantly heating up, and most importantly, I don't have to mow the lawns twice a week! Instead, in the Leonard household, we've been busy with trips to New Zealand, my brother's wedding in Bowral, and another trip to the USA. This was all while renovations took place at our house, which currently looks like a war zone.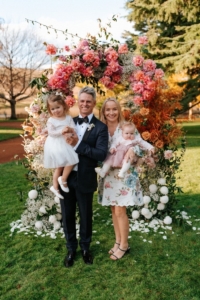 While I was enjoying some time off, the rest of the team was incredibly busy. Lauren Harrison moved into her new house on the Gold Coast, Liam Carroll and Michelle Dolan have excelled in their financial planning studies and Josh McCutcheon has finally finished his renovations (for now).
The insurance market in Queensland has slowed down significantly due to product changes, premium increases and adviser frustration. As a result, the industry has seen new business premiums drop by 20%-30% year-on-year, which will have all insurers looking at their models. At NEOS, we're committed to making insurance more accessible for clients and more effortless for advisers to write. We do this by offering two quality products on the one easy-to-use NEOS platform.
Encompass Protection joined NEOS Protection as a second product offering in early May and the immediate support has been incredible. May was the best month we've had for quotes, submissions, and new adviser activity since the IP changes in October 2021. If you'd like more information on the new platform, and the efficiency benefits this will provide you and your clients, please reach out to anyone in the team.
Finally, with EOFY fast approaching, it's worth reminding you that our incredible underwriting team here in Queensland aim to deliver 80% of underwriting decisions within three business days, so get in touch and see how we can help.
Thank you for your continued support and partnership; it's greatly appreciated and not taken for granted. We look forward to continuing our relationship into the future.
WORK WITH THE BEST THIS EOFY AND GET BUSINESS DONE FAST!
Can you believe the end of financial year is approaching yet again? With 30 June just over the horizon, we're here to help you get any outstanding business across the line.
EOFY is also a great time to review your clients' plans and ensure they have adequate cover.
Here's how we can help you get business completed by 30 June:
The NEOS Experience – Our super-fast turnaround times, streamlined underwriting and friendly service are all part of the NEOS Experience, and mean we can get business done quickly.
One login; two great products – With NEOS, you have access to two high-quality life insurance products through the one easy-to-use platform.
Dedicated support – There are no phone queues to deal with when it comes to NEOS. You can call us directly.
Work with the best in life insurance – Not only is our NPS score the highest in the industry, advisers recently voted us number one in life insurance at the Adviser Ratings Adviser Choice Awards.
For more information, click here.
ENCOMPASS PROTECTION UPDATE
It's been over a month now since we launched Encompass Protection, our brand-new life insurance product in partnership with MLC Life Insurance.
This means you can now offer your clients two quality life insurance products on the single, easy-to-use NEOS platform. You can access it using your existing NEOS login and you'll have access to the same dedicated BDM, underwriter and service consultant regardless of the product brand chosen.
We've been told by advisers that quoting and submitting business for Encompass Protection has been as quick and easy as it is for NEOS Protection. This is a very encouraging start, and we look forward to continuing to support you to protect your clients.
If you'd like to find out more about the NEOS platform or want more detail about the Encompass Protection offering, get in touch with your BDM today. Let's get your clients covered.
NEW AWARDS FOR NEOS
As a company founded with the aim to improve the way life insurance is delivered in the Australian market and a vision to set a new standard in life insurance, we were so proud to win seven of the nine award categories at the Adviser Ratings' Adviser Choice Awards.
Adviser Ratings has launched a new initiative called the Adviser Choice Awards where over a thousand advisers provide feedback and rate their experiences with the life companies they use.
The awards 'honour companies that have evolved their offerings to meet advisers' changing needs' with the intent to 'distinguish the businesses that are innovating and adapting their products to changing market conditions'.
Not only were we voted Overall Best Retail Life Company, our NPS is the highest in the industry (for the third year in a row!). We also won the awards for Ease of Underwriting, Platform Functionality, Competitiveness of Product, Comprehensiveness of Modules, Adviser Support and Claims Handling.
These results also follow the 2021 Life Company of the Year Awards where we won awards in four categories: Service Quality, BDM/Business Support Team (for the second year in a row), Underwriting Team (for the third year in a row) and the award for Trauma/Critical Illness Cover. We were also a finalist for the Overall Platinum award and the awards for Income Protection and Term/TPD Cover.

While we're extremely proud to have truly become a leader in Australian life insurance, we won't stop there. We'll continue working hard to keep delivering the NEOS Experience to you every day.
Thank you for your support!
ARE YOUR CLIENTS' BDBNS UP TO DATE?
A binding death benefit nomination (BDBN) enables clients to nominate who will receive their insurance benefit in the event of their death. Importantly, these instructions are binding on the trustee regardless of whether the client's family situation has changed in the meantime.
Given recent case laws around BDBNs, where an ex-spouse has succeeded in obtaining death benefits from superannuation against the wishes of the testator, ensuring these BDBNs are up to date is incredibly important.
Which is why all Protect Super Plan death benefit nominations are lapsing – they must be renewed every three years to remain binding on the trustee. We strongly believe this is in clients' best interests, so we encourage you to ensure your clients are reviewing and updating their binding nominations regularly.
Updating your clients' BDBNs is easy
Like all things at NEOS, updating a BDBN is easy. Simply:
Download a BDBN form
Complete the form, outlining who the client wants to receive the death benefit from super
Sign and witness the form, making sure the two witnesses are aged over 18 and not a beneficiary nominated on the form, or it will be defective and the trustee won't be bound by their wishes
Email the completed form to customerservice@neoslife.com.au
The BDBN will apply to the super fund and trustees immediately.
As always, if you have any questions speak to your dedicated NEOS service consultant or BDM.
KEEP US IN THE KNOW ABOUT YOUR AUTHORISED REPS
Staff turnover is a normal part of life … but in order to protect the best interests of your clients, make sure you keep us up to date. When advisers change roles or leave your business, let us know right away if they're no longer an authorised representative.
This helps prevent fraud and other financial crimes, and means we all stay compliant with ASIC's requirements. Most importantly, it protects clients from receiving advice from those who aren't authorised to provide it.
So, please tell us if an adviser has left your company or dealer group. If a person has moved on within the industry, their new employer can let us know they're authorised. Or they can get in touch themselves.
Call or email your BDM with any updates. We're here to help!
GET TO KNOW OUR NEWEST RECRUITS
It's been a busy few months here at NEOS. We launched our second product, Encompass Protection, we won several awards and we've once again invested in more great people in order to keep providing the very best service to you and your clients.
With service at the heart of what we do, we're excited to have several new starters onboard to continue delivering the NEOS Experience you're used to.
Most recently, we welcomed four new starters – Ashleigh Mitenko, Paul Simpson, Isabella Mondello and Roxanne Chapman to our underwriting and operations teams.
Ashleigh Mitenko

Ashleigh joined our WA team in March this year as a new Service Administrator from Richmond Private Wealth.

Paul Simpson

Paul also joined the WA team as Senior Underwriter, bringing with him 13 years of experience. He was most recently at TAL.

Isabella Mondello

Isabella has seven years' experience in life insurance, most recently at Zurich. She joins our NSW team as Service Administrator

Roxanne Chapman

Roxanne joined us in Victoria as Senior Underwriter. She also comes to us from Zurich, and she has 14 years' experience in underwriting.
LET US KNOW HOW WE'RE DOING
NEOS is a business focused solely on the advised channel. This means that our success is dependent on your success. If there's anything you feel we could be doing better or if you have any suggestions on how we can improve the NEOS Experience, please let us know.
While this edition of our newsletter has highlighted some of the great successes we've recently had, we're not too proud to think that we can't be better.
Please don't hesitate to reach out to me as your State Manager or alternatively your BDM. We'd love to hear from you! And of course, positive feedback is also appreciated.